Setup is very simple. Outputs include an HDMI cable interface, C-M-Y or composite video outputs, and two audio channel outputs via RCA connectors. Most people will be connecting this to a new High Definition Television, and the best option for them is to use an HDMI cable. You don't need to buy one of the incredibly expensive HDMI cables from Monster Cable or others. An inexpensive $10-20.00 HDMI cable will work just fine. If you're connecting the system to an older television, you can use either of the RCA connection options for video. Similarly, you can connect the player to your amplifier via the RCA jacks or by using the coaxial or optical connections for digital audio systems. If you have a new HDMI receiver or amplifier, you can connect the player's HDMI output to the amplifier's input, which is then connected to your television with another HDMI cable.
BD300 Internet Connection: Ethernet or Wireless?
The only slightly complicated part of the setup process is the Internet/network connection. The BD300 player does not have wireless access built-in (neither does the Samsung BD-P2500), so you'll either have to run an Ethernet cable to it from your router, use a wireless bridge or repeater, or use a power line adapter. An Internet connection is not absolutely required, of course, but it obviously cripples the player's advanced features and easy firmware updates if you don't have it.
To connect your BD-300 to the Internet, you have three options. First, you can run an Ethernet cable through your home from your router to the Blu-Ray player itself. Obviously, this can involve a great deal of work and can be expensive to have done professionally. Second, if you have a wireless router, you can buy a wireless bridge which is simply a wireless receiver that sits next to the player and acts as a "bridge". People are reporting good results with the Linksys Gaming Adapter (shown on the right here), which is really just a wireless bridge that is designed for video games like the Sony PS-3 or the Microsoft XBox 360. You simply install the Gaming Adapter near your Blu-Ray player and connect the two with a short Ethernet cable. The gaming adapter should automatically detect your wireless router and connect seamlessly. And it's less than $100.00. Users report it was easy to install and worked very well with Netflix videos. A regular wireless bridge should work as well, but the Linksys Gaming Adapter may be simpler to use. If you have an older 802.11g wireless router, this would be a good time to consider an upgrade to an 802.11n router because they are so much faster, have a much greater range, and are more resistant to interference. See the Linksys WRT160N shown on the left, for example.
Finally, you can choose one of the various power line adapters that run a signal through the electrical wiring of your home. The power line adapters have some drawbacks. First, they're slow. Second, depending on how your house is wired, you may not be able to connect to all outlets. Overall, the cost is comparable to a new router and a wireless bridge, so its rarely the best choice. So, your first choice should be a direct wired connection. Second choice is a wireless router system (preferrably 802.11n at both ends). And the power line systems if the other choices just aren't practical for you.
If you're going to use the Netflix or BD-Live services, I'd urge you to use an Ethernet cable for your Internet connection, if possible. I was lucky in that my "home office" is actually a converted bedroom adjacent to my real bedroom, so running the cable through a wall was simple for me because I knew where I could do it safely. A wireless setup with a remote bridge is especially worthwhile if you're going to include new Internet-connected devices like a video game system like the XBox 360 or Playstation 3 to your home entertainment system. 802.11g wireless networking is usually adequate for surfing the Web, but depending on the distance between your router and your television, the signal may not be strong enough to sustain the speeds necessary to avoid interruptions in the video playing. If you're determined to go wireless, this is the time to also upgrade to the new 802.11n wireless systems. Wireless-N offers a much higher connection speed and range of signal. We're all getting more devices that rely on an Internet connection, so the improved performance of Wireless-N is the way to go.
As soon as the cables are all connected, you power up your television and the player. The BD300 takes a few moments to "boot up", and then you'll be presented with the "Home" screen. If you have an Internet connection established with your player, I'd suggest that you do what I did and immediately check to see if there's a software update available. Select "Setup", then "Others" and finally "Software Update". The player will go find any updates and install them automatically. The process took less than 3 minutes for me. Keeping the software up to date will insure that your player will play the latest discs and the Netflix service will work at its best. So it's a good idea to check for updates every month or two. The menu system on the BD300 is well-designed and easy to navigate.
Once you're ready, press the "Open" button on the remote and load your disc. Loading time on this player is excellent. It took less than 10 seconds from the time I closed the disc drawer until the disc started to play. The remote control for the BD300 is a multiple device capable controller - as long as you have an LG television, of course. So it is another dongle to keep track of. The buttons are well-positioned and fairly easy to use, even for fumble-fingered louts like me. But I do wish that manufacturers would give up on the single brand mantra and just give us a dedicated remote with larger buttons for Stop, Play, and Pause. Those little buttons are very difficult to find in a darkened room, so when the phone rings in the middle of a movie, I'm always in a state of panic trying to figure out which one is the Pause button. And I'd also wish for the return of the jog shuttle, which I find easier to control than small directional buttons. My old Zenith DVD player has it, and that's why I kept it installed even though my cheap home theater box has a DVD player built in. Maybe I'm just getting old and easily distracted, but many times during a movie I like to "rewind" just 10 or 20 seconds so I can pick up a piece of dialog or action that I missed.
My experience with BD-Live has been mixed. First of all, in order to use BD-Live, you need to plug a USB Flash Drive or other USB memory device with at least 1GB capacity because the player doesn't have enough memory built in to support this feature. Fortunately, Flash Drives are cheap enough that it doesn't add very much to the expense, but LG should have simply included sufficient RAM and charged for it accordingly. If you're enough of an early adopter to pay up to $350.00 for a video player, another $10-20.00 up front wouldn't make a difference. The additional memory does speed up many of the player's processes, so it pays off for more than just access to BD-Live. For example, when loading Disney's "The Nightmare Before Christmas" I got a warning screen that said I might have to wait up to 3-5 minutes for the disc to load. But the disc loaded for me in a few seconds, and I'm sure it was the Flash Drive that accounted for that speed. But, as I say, so far the materials I've found on the few BD-Live discs have been limited to a handful of interviews and additional trailers. Warner Bros. held a special BD-Live viewing of "The Dark Knight" in December 2008 that included live commentary from the film's director. The online event was disappointing, but still showed the promise of BD-Live. However, on the positive side, Warner's BD-Live enabled me to see an extended version of "X-Files: I Want To Believe" and that was a nice bonus.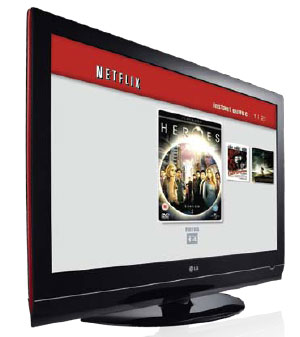 BD300 and Netflix Instant Viewing
I chose the BD300 because I really wanted to use the Netflix service on my Sharp Aquos television. I'd been using my laptop in bed to get the service in the past, and I was pretty happy with that because I watch a lot of old TV shows and really old movies, and the video quality really didn't matter to me very much. I got very good results using a wireless connection this way. But it was frustrating to be in the same room with my new big screen, high-definition television while doing this. I'd actually hooked my laptop up to my new TV once, but the Netflix software didn't work for the external video option on my laptop. So now I'm finally getting what I've always wanted with Netflix Instant Access.
To use the Netflix Instant Access, you go to the Netflix screen on the BD300 and choose "Activate". After a few moments, an activation code appears on the TV screen. Next, you log in to your Netflix account on your computer, go to "Your Account" and choose "Netflix Ready Device Activation" You enter the activation code in the form on the site, and you're all set to begin receiving programming on your television. I've heard a few reports of small problems, but it went smoothly for me. In fact, I've done it twice now since I accidentally erased my account data on the BD300. Both times, I was able to register my player in less than a minute.
The next step is to select the programs and movies that you want to watch. You log into your account, select "Watch Instantly" as always, and browse through the selections. The difference is that you get two options now. You can either choose "Play" or "Add Instant". Selecting "Add Instant" adds the selection to your Watch Instantly Queue. Those selections are then available on your television and you can choose which one to see using the remote control for the BD300. It's a bit cumbersome to be so tethered to the computer to select programs and movies, and I'm sure that someday you'll be able to browse Netflix's library from the BD300 directly. At present, you can only remove (and rate!) selections from your Watch Instantly queue.
My experience with Netflix Instant Viewing has been nothing short of excellent. There was a short period of time in 2007 when I couldn't get a good connection on my laptop, but upgrading the firmware in my Linksys router cleaned that up. I rarely get anything less than 4 out of 5 bars on my laptop which still depends on wireless access, or 7 out of 10 bars on my BD300. I mention this mostly because I can't believe my experience is unusual. I have a very standard Internet service from Comcast and no special equipment. After selecting a movie or TV show, there's a 15-20 second delay for buffering and then the show starts to play. I rarely see any hiccups in the shows I watch, and the video (and audio!) quality on my television has been spectacular. If you have any of the unlimited packages from Netflix, it automatically includes unlimited Instant Viewing. For an extra $1.00 per month (or about $19.00 for me), you get to rent Blu-ray discs and view HD content over the Internet. What a bargain!
The range of selections offered by Netflix is often criticized, but their library is growing all the time. Netflix recently added service from the Starz Network, which includes a large number of very recent movies and television programs. And a good number of the selections are available in High Definition. I believe it's limited to 720p resolution, but that's still amazingly good. Their library contains a lot of British television that I really like, and also has a good selection of popular movies from the past 20 years. The television networks are still just getting their feet wet, but they seem to be working to let Netflix show many of their most popular shows that they make available on their own websites. It's let me catch up with several TV shows that have had a lot of buzz, but I hadn't been watching. And as the competition for online viewing grows, I know that the selection offered by Netflix will continue to expand if for no other reason than it's cheaper to deliver this content over the Internet than to mail and handle processing of physical media.
On December 30, 2009, LG Electronics announced that they would enable their Blu-ray players to access content from the CinemaNow™ online video service, as well as from the video sharing website YouTube™. CinemaNow.com currently lets users download popular movies and television programs to their PC as either a pay-per-view rental or outright purchase. And, of course, YouTube™ is the phenomenal video sharing site. The YouTube™ system was deployed with a firmware update in February, 2009. It has a very nice interface, that lets you either search their site or choose from a list of the most popular videos. There's no word yet on when the CinemaNow™ system will be available. But all together, this makes the players from LG Electronics a very powerful home entertainment platform. They're certainly the most versatile Blu-ray players on the market today.
Review Summary
Blu-ray is as good as the hype. The images are silky smooth and vivid. "The Dark Knight", for example, contains skylines and vistas that are stunning. And the restored versions of the James Bond movies on Blu-ray show have such depth and clarity that you'll see these movies in a very different way than you ever have before. By contrast, the Blu-Ray version of "Casablanca" was nothing special. The image still looked like it was shot through gauze, and the gray scale was unremarkable. So don't throw away all of your DVDs of older films.
I have a cheap home theater system, and so I can't give you the audiophile's guide to the BD300's performance in that respect. I enjoy having Surround Sound in my little bedroom setup, and all went well for me in this regard. I was a bit disappointed in the upconverting of standard DVDs. It's hard to judge if the BD300 is at fault or if it's just me, but I can't see any real improvement between the way standard DVDs look on the BD300 over what I was getting with my two standard DVD players that I had been using in tandem. My clunky 10-year old Zenith DVD player and my cheap home theater system both gave me a stunningly sharp image on my Sharp Aquos 1080p television, which was the main reason I hadn't switched to Blu-ray before. My Sharp television has image enhancement built-in, which might account for this even though I have it set to a fairly low level of enhancement. The 32" Sharp naturally gave me much better pictures with DVDs than my 27" flat screen CRT television, so I noticed that difference immediately. I also bought the 1080p version of the Sharp because I could see a difference from the 720p version in the store, even on the 32" screen. But my 50+ year-old eyes just can't see any significant improvement in the upconversion of standard DVDs by the BD300 over my old DVD player. Certainly not at my normal viewing distance of about 8-10 feet.
The BD300 is a fine player and an excellent choice if you've decided to go Blu-Ray and want all of the latest options this new format provides. The BD300 is reasonably priced and performs well. The low profile makes stacking it convenient, and it runs quietly. You have all of the controls you need to get the best possible results for your television and audio equipment without overly complicating the process. I agonize for months over buying electronic gadgets, and I'd been mulling over the choice between a standalone Blu-ray player and the Roku Netflix Player, and really indulging myself with a Sony Playstation 3. I wasn't thrilled with the idea of the Roku because it meant yet another box, yet another remote control, and another set of cables to connect and occasionally untangle. And being one of the last males in America that doesn't play videogames very often, I was tempted to buy the Playstation 3 to see what I'd been missing both in the games and the Blu-Ray discs. In the end, I felt that I wasn't likely to spend enough time playing video games in my bedroom to justify the extra cost. And when it became clear that Sony wasn't going to offer Netflix access, I made up my mind to buy either the LG BD300 or the Samsung BD-2550P or BD-2500. I was leaning toward the less expensive version of the Samsung because they have a slightly better reputation, but a sale at Best Buy combined with my Rewards Points decided the issue. I'm very satisfied with my choice and highly recommend this Blu-ray disc player.